---
Latin anyone?
Julius Caesar wrote the famous "Veni. Vidi. Vici." [ I came; I saw; I conquered. ] in a letter to the Roman Senate around 47 A.D. Today, I've modified the statement, replacing Vici with Probi.
I came; I saw; I approved.
You've got the industry's most popular Digital Asset Management platform: Xinet™. You've got the industry's best interface/toolset for Xinet: Elegant 6. So, what is your department/organization missing? An integrated softproofing solution that humbles even the most demanding of approval cycles.
I'd like to introduce Production Central™, the Xinet plugin that transforms your already potent production platform into a professional proofing portal. With Production Central, the proofing and approval process couldn't be easier or more flexible.
And you guessed it, the Production Central plugin is engineered for your E6-driven production environment !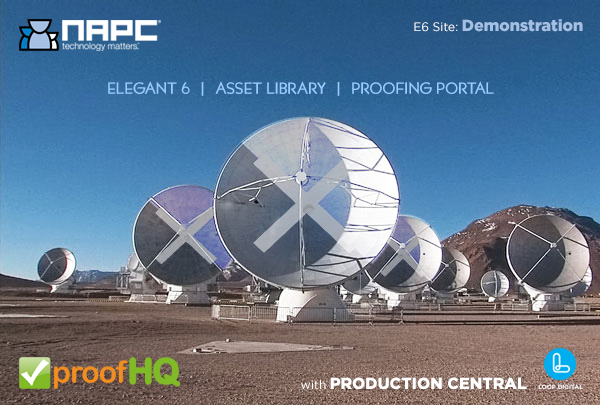 Production Central seamlessly joins E6 with proofHQ® to deliver an intelligent, enterprise-level softproofing solution. Infinitely configurable, Production Central leverages your existing [and future] job structure(s) to automatically generate and manage proofHQ proofs and send email notifications.
Probi
No matter your approval cycle's simplicity or complexity, Production Central facilitates real-time collaboration and status updates on every proof.

The colorful, easy to interpret, Proofing Dashboard ensures that Reviewers, Approvers and Managers alike can, at a glance, see who has [or hasn't] Opened, Commented or made a Decision on every proof out On Approval.
Impromptu Inclusion
Need to add someone to the proof at the last minute? No problem. Need to modify the deadline? Click and reset it. How about corraling perpetual procrastinators? Production Central can automatically chase'em with time-sensitive, reminder email. Time for an immediate, executive decision? Make it and move on. Need to alert everyone assigned to the proof? Use a custom BUZZWORD in your proof comment to reach everyone. On the road? Approve, reject, mark-up on the go with the proofHQ app for smart phones and tablets.
Production Central will empower your personnel without adding more work.
Contact your NAPC Account Manager to schedule a Production Central demonstration, today !