---
Fifteen.

Fifteen years have passed since the creation of the industry's first PDF/X-1a:2001 file.

How do I know this?

I was there, August 20, 2001, in Toronto, Canada two years and a thousand miles away from my first Committee for Graphic Arts Technology Standards (CGATS) Subcommittee Six, Task Force One meeting, eager to report the news.

Five weeks earlier, I had cleared what was [my] the last barrier to creating valid PDF/X-1a files. I was working on a custom pdfmark [ a snippet of code to be executed by Adobe Acrobat Distiller ] that would embed specific key-value pairs and dictionaries required by the PDF/X standard. I say 'working on' because success was not immediate, it came in increments, increments of frustration and elation. Keep in mind, there were no plugins or applications that created PDF/X, there was only Apago PDF/X Checkup, an Acrobat plugin that verified PDF/X. I was alone on the PDF/X frontier, making a map as I moved ahead. Through trial and error was I able to resolve the syntax in my pdfmark, enabling Adobe Acrobat Distiller to produce valid PDF/X-1a:2001 files !

As every reader should know, the "X" in PDF/X stands for exchange. As a PDF/X creator, I now needed a receiver, a person - organization who would verify and process the file for print. I contacted fellow PDF/X advocates Brad Mintz of McCann-Erickson and Kin Wah Lam of Time, Inc.. Together, we resolved to run a live print test where Brad provided the electronic files for a two-page Lucent advertisement, I [ The LTC Group - North Haven ] produced both a TIFF/IT-P1 and PDF/X-1a version of the ad, and Kin verified the files and scheduled the press time at R.R. Donnelley - Torrence.

At about the same time, I was in contact with another printer, Banta, coordinating the delivery of a 2-page, perfect-bound advertisement for our customer Ralph Lauren - POLO. As I was discussing the Computer To Plate capabilities at Banta, I informed my printing peer that my company was capable of delivering PDF/X-1a and asked if he would be interested in receiving the ad as PDF/X-1a.

On August 17, Kin formally announced the successful print test, establishing the facts of the 'first' with printed samples and a letter. I was unaware of delivery of Kin's package as I was on my way to the airport and a weekend in Canada. I had everything with me. I was armed with the actual test files and the emails exchanged in the process of conducting the test, ready to share them with my CGATS colleagues on Monday morning.
---
Print Test Signature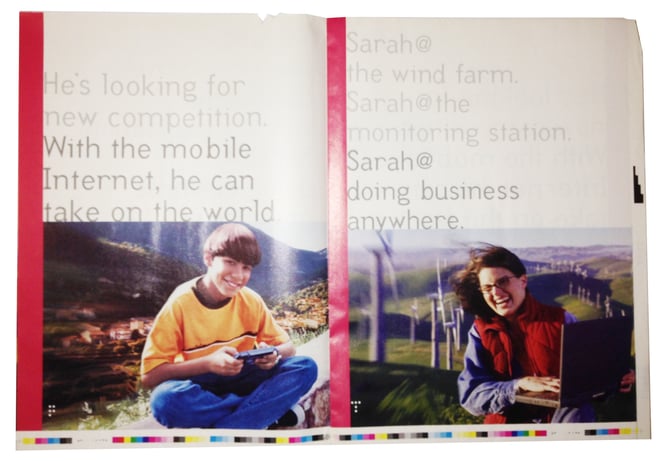 Note: Small 'dots' indicate file type. "P" = PDF/X "T" = TIFF/IT-P1
---
As you might imagine, the work involved in creating an international standard is both time-consuming and deliberate. While not exactly law, the process does share many of the elements of lawmaking, most notably order, procedure and conduct. My own standards baptism occurred when I attended my first CGATS WG6-TF1 meeting in Fort Lauderdale, FL in early 1999. I had no prior experience and had never even heard of Roberts Rules of Order.
So here I am, two-plus years later, a seasoned CGATS veteran patiently awaiting the adoption of the meeting's Agenda. Or so I thought. I must have been fidgeting like a percolating coffee pot, eager for release, when SC6-TF1 Chairman, Martin Bailey recognized me:

[as recorded in the Minutes]

"Tully reported on the successful creation of the first PDF/X-1a file, in cooperation with Time, Inc. and others. The file was also created as a TIFF/IT file. It has been reported that the printed PDF/X-1a file is indistinguishable from the printed TIFF/IT file. The first live add to be printed will a Ralph Loren add to appear in Dirt Rag Magazine, and will be printed by Banta."

Upon my return work, I oversaw the distillation, proofing and delivery of '7195RLX_F01Dirt.pdf' -- the Ralph Lauren - POLO ad. In recognition of the significance of the ad [file], (2) additional Kodak Approval proofs were made. I had them matted and framed, one for my boss and one for the plant's Managing Director.
[ I inherited this one in February 2011 when I became Managing Director of the North Haven facility ]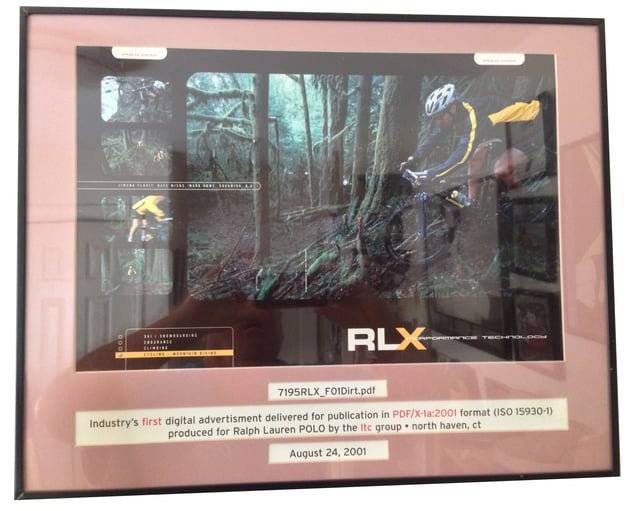 The industry's first PDF/X-1a:2001 ad printed without any fanfare or difficulty, appearing in the October 2001 issue of Dirt Rag Magazine. We can only imagine how many PDF/X-1a files have been created and printed since...?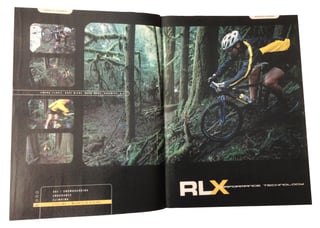 Happy Birthday PDF/X-1a:2001 !