As the Holiday weekend starts up for us all, lets close the week out and chat a bit about all the cool things that are coming to the masses soon. Xinet is going to be releasing version 16 of it's suite of tools including a new, faster version of Portal, a unified web interface for all administration, easier tools and setup for PDF Image replacement, greatly enhanced video capabilities, basic web based markup and annotation tools and a whole bunch of other "under the hood" improvements. Currently, NAPC is testing beta 2 of version 16 and we're all pretty impressed with it so far. One of the biggest features I'm excited about is the enhanced video features. Let me esplain (as Ricky would say).

Xinet, in the new soon to be released version of video in Suite 16, has greatly enhanced how users in Portal interact with video assets. In the current release of Video 2.0 in Xinet, it is possible to stream many video formats, create keyframes at a preset interval, and really, thats about it. With the new version, you'll be able to do much, much more. First and foremost, the ability to create what I would call mini-reels, is now available as a basket plugin in Portal. This is how it works:

1) User logs in to a Portal site and identifies the files they want to work with. Those files could be video files of various formats, InDesign files, static picture files, just about anything you can have in Xinet.
2) The user would then add those files to a shopping basket.
3) Once in the basket, the user would click the basket plugin named "Video Generation"
4) This brings up a new Web 2.0 type of interface to arrange the assets into whatever order makes sense to the end user. Asset arrangement is made simple by using drag and drop in a web browser-me likey!
5) Once in the correct order, the user can set the 'in and out' times of the files based on keyframes generated by Xinet or by hours:minutes:seconds.
6) The user can also set basic fade outs from clip to clip as well. Gives it a nice touch!
7) Once the files are arranged in the correct order and the in/out times are set, a new video file can be generated from those assets in either a Quicktime, Windows Media, or Flash format.
8) The server then generates the appropriate file on the Xinet file system and once done, it gives the end user the ability to download the file to their desktop.
Here's a peek of what it'll look like: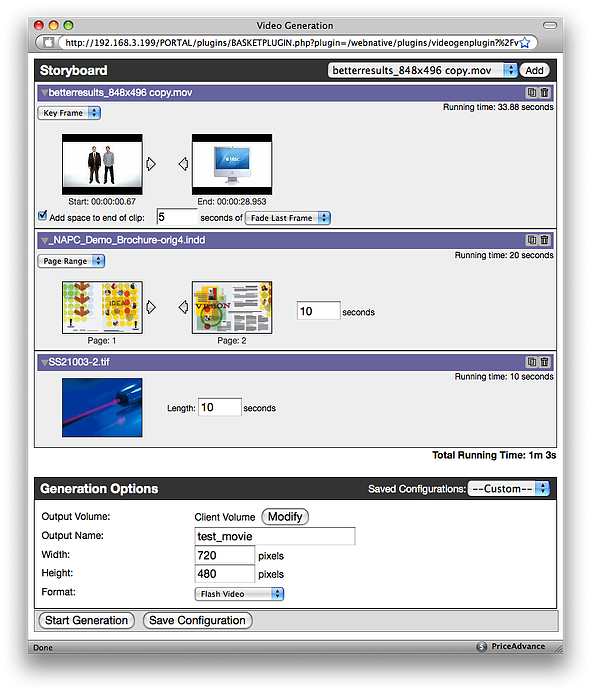 This is huge everyone. Think of it this way, if you have 30 second spots for a client for all of 2008, and they want to create a quick reel of all the ones that won awards (that you made of course!), they can quickly log in to Xinet via Portal, collect the assets, set the times and format and let Xinet make the file for them. To be clear, this is not intended for broadcast but more for the web or computer screen aka small screen. I think this is a huge leap forward for Xinet and since I used to work in the broadcast world, it's pretty exciting for me as you might be able to tell!

On top of that, screen detection for keyframing is also part of the new release. The current version can be set to sample a keyframe at a set interval say every 5 seconds or so regardless of scene change or not. That can potentially add a bunch of useless keyframes into your database. With the new scene detection functionality, you can set the admin preferences so it is "smart" and only creates keyframes when a scene actually changes with tolerance controls. So, instead of keyframing a movie that is 1 minute long and getting 12 keyframes (when sampled every 5 seconds), you may only get 7 or 8 frames stored in the database. This can be very helpful!

Overall, we have a lot to look forward to with the upcoming release of version 16 of Xinet's Suite of tools.

Enjoy the weekend all and as always, if you have any questions on any of this information, please give us a ring and we'll be happy to help! Want to see this new functionality for yourself??? Give your Account Manager a call and we'll be happy to show you all the new stuff.

Happy 4th of July!

Brian Dolan