If you didn't know already, NAPC has added Enfocus Switch, PitStop and Connect to its production-enhancing toolbox. While most everyone has heard of or used PitStop to verify and repair PDF files, let me introduce you to Switch and share with you some of its wicked-cool features.
Switch is a modular and 'open' workflow automation solution that's, 'just right'. By that I mean, it fits. It fits right in between Xinet's Triggers & Actions and Dalim Software's TWiST when comparing features, capabilities and cost of ownership.
First off, Switch can do anything Triggers & Actions can do. And when it comes to 'set-up' or 'configuration', it's no contest -- there's a rudimentary interface for Triggers and Actions and an intuitive, interactive one for Switch.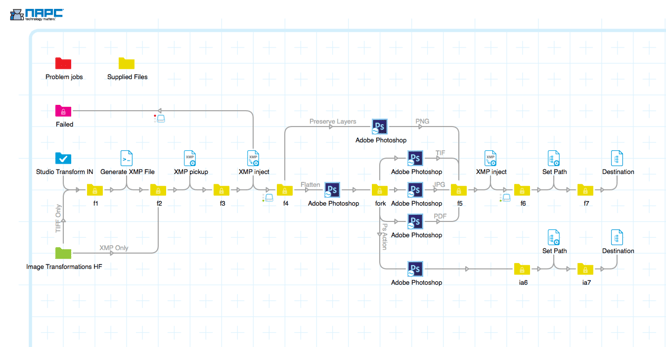 In Switch, you simply drag-n-drop the Flow Elements on the canvas and join them with Connectors. When done assembling and configuring, save the workflow (Flow) and activate it.
Switch is highly modular; you only purchase the modules you need. Starting with the Core Engine, Switch's capabilities are expanded with the optional modules: Configurator, Metadata, Database, Scripting, Performance, Switch Client, Web Services and Switch Proxy.
Switch is based on the popular programming language: JavaScript. In being 'open', Switch can be extended with custom scripting written in JavaScript, AppleScript (Mac) or Visual Basic (Windows). The input-processing-output capabilities are based on standards such as: XML, XMP, XSLT, X-Path, SQL, HTML, HTTP, FTP to name a few.
As you would expect, Switch seamlessly integrates with PitStop Server and Connect to form a dynamic, end-to-end workflow. If this isn't enough to get you thinking about seeing, or better yet, owning Switch, there are three things that make Switch peerless.
First, Switch is always 'current' as its processing power comes from the applications you already own. As those apps are updated, new Configurators are made available via the Pack Manager. Since Switch automatically checks for new Configurators each time it is launched (or you can check for updates manually) the production environment is perpetually kept up to date.
Second is the Enfocus Appstore. Like Apple's App Store, the Enfocus Appstore serves as a co-creation platform where you can buy custom Flow Elements (tools) that extend your Switch Flows. Need a special gadget? Check the Appstore. Better yet, if you solve a particular workflow problem/need with a custom script, you can package it and post it for sale!
Lastly, there is Enfocus Forum, a vibrant, international community of contributors for exchanging tips, tricks and opinion.
Watch Switch in action Julty 11th, during Enfocus' annual online webinar series: