Friends,
As a member of NAPC's customer-focused, technology-taming Customer Support team I passionately advocate and support our customer's [your] investment in Dalim Software's industry-leading solutions TWiST, DiALOGUE and ES.
Today, I'd like to share with you and perhaps get you thinking about customer-facing 'branding' opportunities within ES.
I would imagine that many of you ES administrators have already achieved some 'branding' knowingly or un-knowingly when you used the Customization-Theme Configuration feature to add your organization's logo to the Login Screen?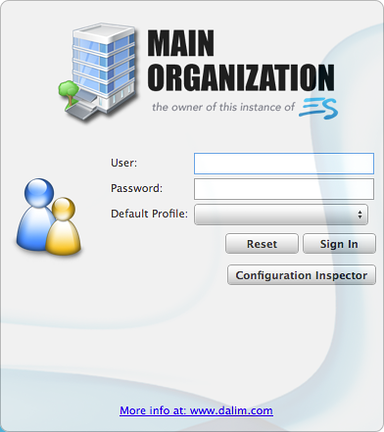 How about applying your own colors to the ES interface? Sure you have. Since you [may] have created a custom look and feel for your ES users and customers, why not consider applying your custom theme to some new, branded e-Mail templates!
Your ES 3 installation came with (8) e-Mail templates and (11) default Notification templates. For this exercise and introduction, we'll choose the File Event condition as our E-Mail template source and create a new template by modifying it.
First things first.
You don't have to be a programmer or .html wiz to edit the templates, so please, keep reading. If you are a wiz, consider sharing what you've learned with a coworker and helping them along. Regardless, everything you will need can be found in tools you use everyday and the 'know-how', trust me, you already have it.
Ready?
Let's start by identifying some 'parts' you will be adding to the template to achieve some enhancement. Color. You'll need to determine the hexidecimal value of the color you will be applying [ex:#bf2e1a] and a raster version of your logo. Your art or logo file should be in [.png, .gif .jpg] format using the RGB colorspace. Indexed or Greyscale colorspaces will also work.
Login to ES as an Administrator. Select "Administration" mode and then navigate to and open the File Event E-Mail template. In the message body, Select All and Copy to capture the entire message body. Launch your text-editing application and Paste the message body into a blank document. It's a good idea to perform Save As... "File Event" so you have a backup of the E-Mail template [for safekeeping].
In the message body, Find and Replace "#252525" with your color. Find and Replace "header.png" with the exact name of your logo [ex: my_logo.png]. So far so good? Now perform a Select All, Copy.
Switching back to ES...the File Event E-Mail template...
Click in the message body area and Paste your edited message body into the template. Click OK to close the template editor window, and then click Save to update your File Event template.
That's it, the editing is done.
On your ES 3 server, navigate to the "images" directory:
/symlnks/common/tomcat6.0/webapps/Esprit/images
Copy your logo into the "images" directory. [EOF]
Returning to ES, perform an action in ES that will trigger a File Event Notification condition, and check your E-Mail. There is your newly 'branded' E-Mail message!
Okay, before you get too excited (and waste alot of time designing a masterpiece) allow me to make an important point: ES 3 E-Mail templates must be under 2048 bytes. Yes, that's bytes. To put that number into perspective, this blog message would have ended six sentences ago at the [EOF] marker!
So friends, take care to keep your customization simple. And for you 'clever', self-reliant users who have jumped to the conclusion of overcoming the 2048 hurdle, let me be perfectly clear: I do not advocate 'hacking', so don't even go there...
The upside is, you can get some attractive results and stay under the 2048 limit with a bit of trial and error. So keep at it. I am confident that you'll be successful in adding a little style to your messages, even with the size restriction.
Now, the good news is, we all can also look forward to a better branded future in ES. That's right, the engineers at Dalim Software are aware of [yours, mine and] the marketplace's desire to design and compose attractive, branded E-Mail messages and have taken action to relax the size restriction in the next "dot-oh" release of ES...ES 4.0.
Stay tuned, my friends.
Scott