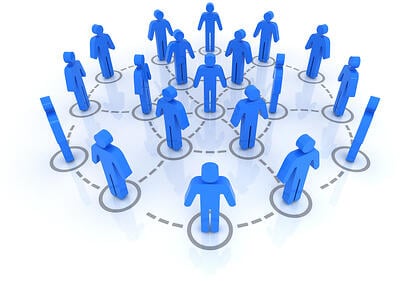 Between long hours, heated debates and late night ping pong matches, ad agency groups tend to be very closely knit. As exciting as it is to welcome new blood when hiring season rolls around, as it is for the class of 2013, it can be strange to have new team members during a big client pitch, especially if they're replacing somebody who just left. An agency is only as successful as its team is united, which is why you should use both in-person skills and social technology to make newbies feel at home.
Connect Everyone Through An Enterprise Social Network
Everybody has different preferences for social networks. Some people are more avid Facebook users while others gravitate towards LinkedIn. In an online environment it can be very difficult to connect everyone when there are so many options and so many different personal preferences. Use an internal social network specifically tailored to your ad agency. Beyond being able to efficiently collaborate it will encourage icebreaking and inside joke creation, providing a virtual water cooler where new hires can mingle with senior managers easily.
Encourage Idea Contribution
New employees love feeling valuable. When you encourage them to share their ideas during meetings, pitches or conference calls, they benefit from seeing their work in action. Even if their ideas aren't great, they can learn from veteran team members. The result is that new employees feel like they're contributing to discussions and projects while also learning about the needs of clients.
Share Work Examples
It's the question everybody wonders about the new art director or graphic designer: What's their style? Get everybody together and swap work samples: Banners, fliers, graphics, whatever you can share to help each other get a sense of what your artistic talents are and where your strengths lie. An online sample room can make internal collaboration a lot of fun, and it will encourage inspiration and creativity among the entire team.
Make The First Move
Intern or 30-year veteran, it's never easy being new. Not getting the inside jokes or only being identified as the "new guy" can make it daunting for the new people to introduce themselves. Save them the trouble by walking up, introducing yourself, and giving the rookie the rundown on what's been happening at the agency. You'll help them work better by understanding the ins and outs of your environment and make them feel welcome in the process.
Ask How New Hires Are Doing
This simple gesture can make new employees feel right at home, and even make them want to contribute more to a company-driven social network as a result. When I was a rookie at my first internship, the Human Resources Director dropped by my desk on a daily basis for the first few weeks. No big updates, no problems; she just wanted to say hi, check in, and ask how I was acclimating. It was a few minutes out of her day that helped ease my nervousness at being new and 10 years younger than almost everybody at the office. As a result I wound up getting involved in the company events, including prepping for the Christmas party.
Keep these tips in mind as we head into summer, particularly as a fresh batch of recent college graduates arrive at their desks. Be good to them and they'll be great to you.