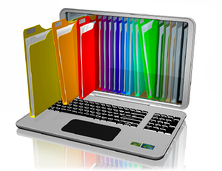 Unlike the elements of nature we, the human species, are not busy adding to the spring canvas with sprouting leaves or blooming flowers. Just the opposite. The changing of seasons sets off some internal urge to declutter, organize and air out our spaces with a good, deep cleaning.
But it's not just closets, attics and wardrobes that benefit from organization. Like your lifestyle, your entire workstyle can benefit from a good declutter. You might even kickstart a whole new level of productivity and even, yes even, cost savings! What a way to enter a new season!
If your desktop, archive system, production schedule or asset and graphics library look like your garage (pre-cleaning), then there is still some serious work ahead. Good thing we've got the most simple, yet effective, solutions that will help you git 'er done.
Just as storage containers and label makers make grouping, naming and accessing our personal items a cinch, digital asset management solutions help us easily do the same for our digital files at work.
Digital asset management solutions streamline and organize to give you the single source of truth you and your team need. The right solution can actually make all the difference by helping to break down barriers between internal teams, clients, vendors and staff to accelerate productivity, and increase revenue.
Whether it be ProofHQ for online proofing and collaboration, Bynder for your all-important brand asset management needs, or a more work in progress digital asset management system, like Xinet, organizing and decluttering your workstyle will create a sense of harmony...just like that found in springtime nature.